Registration Information:
Owner's Name:
Brett & Katie Langolf
From:
Bexley, OH USA
Representing Club:
Bayview Y.C. / Sandusky S.C. / Deadman's Flat Y.C.
Registered Crew:
9
Course:
Shore
Racing Class:
Racing
Division:
Division II - Shore Course
Entry Status:
Rating and Other Information:
Skipper:
Brett Langolf
ORC Cert. Ref.:
Race Rating:
Rating Notes:
Race Reported Times:
Finish Time:
-
Elapsed Time:
Boat Information:
Sail Number:
USA 25006
Boat Type:
J/34
Mfg. Date:
1985
Length:
34
Draft:
6.17
Beam:
11.17
Hull Color:
White
Spinnaker Colors:
Doyle
---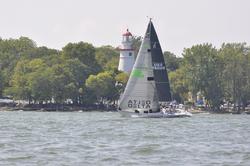 ---
About Knee Deep...
Knee Deep Sailing is a collection of friends & family that have raced all over The Great Lakes together. Owners Katie & Brett Langolf both grew up doing The Mac on family friend's boats with their share of success. Katie and Brett been have two 1st Place finishes, but Katie holds the tie-breaker with a Course Record. This is their third version of a J/Boat and their seventh Mac Race on the current one, with a 3rd in 2016 & 19.
Knee Deep Sailing Team is powered by Doyle Sails
Good Luck to all sailors on the lake and their families traveling up I-75 North.
---
Crew List:
Brett Langolf - Bexley, OH

Evan Wilkins - Port Huron, MI

Jason Huffman - Powell, OH

C.J. Ruffing - Port Huron, MI

Chris Ongena -

Hadley Langolf -

Robert Mansuetto -