Registration Information:
Owner's Name:
Robert Arzbaecher
From:
Brookfield, WI USA
Representing Club:
Milwaukee Yacht Club
Registered Crew:
12
Course:
Racing Class:
Division:
Entry Status:
Rating and Other Information:
Skipper:
Robert Arzbaecher
ORC Cert. Ref.:
Race Rating:
Rating Notes:
Race Reported Times:
Finish Time:
-
Elapsed Time:
Boat Information:
Sail Number:
USA 60102
Boat Type:
Beneteau First 40.7
Mfg. Date:
2002
Length:
39.25
Draft:
7.75
Beam:
12.333
Hull Color:
white
Spinnaker Colors:
Blue
---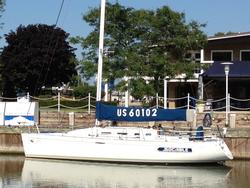 ---
About Sociable...
Sociable is Lake Michigan Beneteau 40.7, and happy to participate in the 100th Anniversary of the Bayview MAC.
Sociable has a long history of racing the Chicago Mac, including being involved in the rescue of 6 crewmembers from "Wingnuts" during the 2011 Chicago MAC.
Sociable has a no alcohol policy during the race. but look out once we hit the Mackinac Island. The boat was named after "what time is it? TIME FOR A SOCIABLE!!"
---