Registration Information:
Owner's Name:
Mark Miller
From:
Lake Orion, MI USA
Representing Club:
Bayview Yacht Club
Registered Crew:
10
Course:
Shore
Racing Class:
Cruising
Division:
Division II - Shore Course
Entry Status:
Application Complete - Pending Race Approval
Rating and Other Information:
Skipper:
Mark Miller
ORC Cert. Ref.:
Race Rating:
Rating Notes:
Race Reported Times:
Finish Time:
-
Elapsed Time:
Boat Information:
Sail Number:
USA 25434
Boat Type:
Beneteau First 42 TM SD
Mfg. Date:
1987
Length:
41.9
Draft:
6.25
Beam:
13.1
Hull Color:
White
Spinnaker Colors:
White
---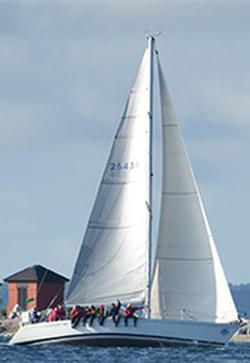 ---
About Comfortably Numb...
Comfortably Numb is Skippered by owner Mark Miller and thanks to the Numb Sailing Syndicate is representing Bayview Yacht Club. Comfortably Numb is a multiple class winner and is looking forward to some stiff competition and great times on the island.
Comfortably Numb Sailing is more than just sailing or racing. It's all about friendships and having fun in our lives as we quest for those ever-elusive sailing trophies. Whether we win loose, we will always have the time of our lives. We are, Comfortably Numb.
---
Crew List:
Jim Neumann - Harsens Island, MI

Steve Gilbert - Halifax, MA

Mark Miller - Lake Orion, MI

Case Delange - Richmond, MI

J Greg Muliett - Grosse Pointe Park, MI

Joseph Sosnowski - Grosse Ile, MI

Stephen Beck - West Bloomfield, MI

Doug Netzloff - Romeo, MI

Mick Hurley - Oak Park, Mi

Derek Barnes - Kalamazoo, MI